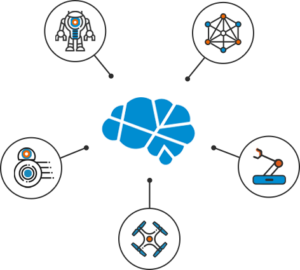 Noos is a revolutionary cloud AI service, providing centralised intelligence to devices (robots, IoT) that are connected to it. Noos is a highly scalable service, which greatly reduces IoT and robot development and deployment costs.
If you are a developer or a user of an IoT device or a robot or even a tablet or a smart phone, you may send your data to Noos and use our continuously running Computer Vision, SLAM, Navigation, Deep Learning, and further cloud services to free up on-hardware resources. You can even use Noos for multiple devices!
Our AI cloud platform enables a variety of applications to be instantly used on any hardware devices on demand.
Using our cloud platform enriches applications because objects, faces, sounds, voices, locations, and many other things, can be shared across different devices (only on demand, we respect privacy) enabling cooperation of robots in a novel manner.
Noos clearly excels other current offerings in terms of ease of use, reduced costs, scalability, and robustness. The benefits of Noos compared to existing solutions include:
IoT devices and robots acquire new capabilities without needing new hardware.
Costs are significantly lowered (the cost of the complete cloud platform + cloud enabled device can easily be under 10% of the cost of a device with similar on-board capacities).
The use of Noos frees existing on-board resources to be used in other tasks.
Devices increase their storage capacity.
Power consumption on the hardware device is decreased.
Noos enables very fast development of IoT and robot software and deployment of robotic systems.
Cloud based intelligence is enabled, and devices can collaborate and learn from each other.
We are already applying our cloud based solutions in the creation and delivery of service robotics applications for the elderly (offering cognitive assistance, geriatric assessment, and companionship). However, our solutions can be used in various other domains and fields, such as medical and clinical, children education, entertainment, provision of public administration services, agriculture, manufacturing and shop-floor operations, drones and unmanned vehicles, monitoring and security, etc.
What we offer:
Enterprise cloud solutions for the public sector
Enterprise cloud solutions for the service sector
Enterprise cloud solutions for manufacturing
More than 100 enterprises powered by the Noos Cloud!
More than 900 happy users!
Cost is an issue! Quality is not! Unlimited quality guaranteed by the Noos Cloud contract!
Three year cloud support – 24 times 7
We build your cloud business!
Free consultancy for anyone in April and May 2021!!! Send us a request now!
Visit http://noos.cloud, sign and use our services. Don't forget to view our documentation and our tutorials.